The package arrived today and WOW, I wasn't expecting so much!! Super cool!! Thank you so much, we really appreciate everything and we'll have to let our friends know where they can get one of these!
I've moved three times in as many years, and one of the first things I always ask myself in my new place is "What would the disaster gal do?" I know I'm a lot safer today than I was before my training!
The Disaster Gal should be a mandatory requirement in everyone's life. The information, resources and tools provided are game changing and help prepare you to be confident and prepared if any disasters approach your life.
So glad I learned how to make my apartment earthquake-safe[r]! Looking back there were a lot hazards lurking all over the place.
The kit is great. I loved seeing what everything was, learning why it was in there, and adding some of my own important personal items. Highly recommend.
Minormergency Kit Contents
---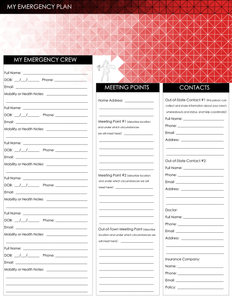 Free Emergency Plan
Preparedness starts with planning. Create your plan with your emergency crew, and make sure everyone has a copy.
Download here
Contact
Mon - Sun, 10am - 9pm
(415)779-2837
hello@thedisastergal.com
San Francisco, CA
Blog
---
Know how to prepare for and stay safe in the event of a wildfire!
One of the most common and deadly types of home fire is caused by faulty, misused or damaged electrical systems. Older structures can be especially prone to dangerous electrical problems,...
Millions were under tsunami warnings after the Tonga volcano eruption last week. What exactly does that mean, and what should you do when an alert is issued?  Make sure you're...